With R+ you get many new objects and structures that make your life easier.
All structures are manufactured in the R+ workbench.
Tek Strukturen
– improved Tek Trough (trough with increased range, keeps food fresh)
– efficient Tek Generator (runs with 2 element/day regardless of the size of the range)
– Mutator (runs with Corrupted Element, you get this if you run the Genetic Workbench with Element, it will be converted 1:1, but only 1/hour), allows e.g. to mate non-mating animals (Wyvern, Rockdrake), increase the chance of mutations or give sexless animals a sex. Can not be used to change the sex!
– improved Tek force field generator (needs 4 element/day regardless of the size of the range, cannot be used with generator)
– improved teleporter
– Tekelevator
– Elemencatalysator (can only be used in aberration to produce element from the element lake)
– Obelisk and Bossfight Terminal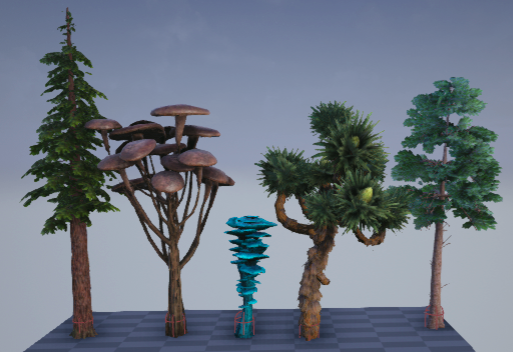 Cultivable trees
You can plant these trees in
Behemoth Tree Plot

.

To grow the trees need

mulch + water

. When they are fully grown, they do not need this anymore and have unlimited durability. On all trees you can snap platforms and build on them.

The number of trees is limited to 3 per tribe for the time being

.


Special trees can only be planted for Radio Coins

. You can see a preview of all trees directly ingame by clicking on the seeds in the plot.
Guns
– Demo Gun (picks up structures (left click), can be moved to destroy structures (right click))
– Kill Gun (to kill your own dinosaurs) (right click selects dinosaur, left click performs action)
– Model & Transparency Gun (to set transparency and model for glass structures) (right click selects object, left click performs action)
– Transfer Gun (Items can be transferred from one object to another) (right click selects the original object, left click on the new object transfers the items into it)
– inventory assistant
– transfer tool
– Light Setting Gun
active structures
– Pull Function known from S+
– Item collector (collects items, excrements and eggs dropped by your animals, runs on electronics, 500 pieces last about a week, can be powered by Tek Generator, keeps collected eggs fresh)
– Animal keeper (collects items that your animals produce in the inventory, can distribute owl puke to Gachas, runs on rare flowers, 2/hour, can run on Tek Generator)
– Gardener (harvest your beds, runs on beer, can be powered by Tek Generator)
– Farmer (fertilizes your beds, runs on Calien soup, can be powered by Tek Generator)
– Nanny (feeds and imprints your babies) Click here for the guide
– breedingchamber collect your fertilized eggs from your animals (runs on stimulants, 1000 eggs last about a week, can be used with Tek Generator)
– Shepherd shears your sheep and collects wool (needs shearing to function, 6/day)
Structures
– Glass structures (also offer a greenhouse bonus), up to 14 roofs can be set without Foundation Support
– Water suction pipe (metal & stone) (no water source required for connection)
– improved feeding trough (trough with increased reach)
– Gacha Platform (fills the inventory of Gachas automatically, if your Gacha are on this plate, they will not be saddened by the presence of other Gachas)
– hitchingpost (for leashing your dinos)
– seamless crop plots (triangle & square)
– Improved light
– Improved flares
– automatic double doors and gates
– all platforms and structures known from PlatformsPlus
– Improved Leash: Does not need power / sunlight, radius can be faded in/out
– huge metal fence (size 2×4, snaps to other huge metal fences, needs no foundation (is integrated), can be colored)
Basemesurement Tool
You can make three base measurement tools in the R+ bench. These are designed to help you check the size of your base for yourself. Just place them in the middle of your base and see the range. This will give you an approximate guideline of how large a base should be. Since we have seen many bases that are a bit oversized lately, we would like to limit the size a bit to make more space available for others.
We admins will also check some bases with it and if necessary we will tell you to reduce the size. However, you are helping us immensely if you do this yourself. On Genesis the middle base measurement tool serves as a guideline. On all other maps, the large base measurement tool is the standard. The smaller base measurement tools are for the outposts.
Devices
– Cryopods and Cryofridges
– Kibble Mixer (where you can make Kibble from pasteurized egg, which can be made from all eggs, as well as Wyvern milk and Nameless poison)
– improved air conditioning (silent, double range)
– Mini variants of Grinder, Tek-Replicator, Forge were supplied with recipes and run over the generator (ATTENTION: can be produced in the miniature bench)
– Fabricator, chemical bench, cooking pot, grill with additional recipes, all of which can also be operated via the generator
ATTENTION: Only the Mini variants have the "S+ features", the normal Grinder, Forge and Tek replicator are the normal Vanilla variants.
– Sheep Grinder:
This allows you to grind sheep laag-free and with the same yield as with a very good chainsaw. To grind sheep, simply place them dead on top of the grinder and press "Grind! The Sheep Grinder must be active (runs on petrol). The number of sheep you can grind at the same time is not limited, but keep in mind that the Sheep Grinder has only 300 slots!
Seeds which may be additionally planted
There are many decorative Trees that can be planted in your cropplots to make your base look more natural!
– R+ distributor, can be manufactured without element or similar
Works with all storages of Radioactive Plus, also works with the standard dedicated storage. 4 adjustable ranges (High, Medium, Low, Very Low)

Can be used to sort resources, consumables, weapons, armor, structures, ammunition and saddles into cabinets.

By "hitting" them by hand or with an animal the transfer can be started. Also has an inventory and a "Deposit" function in the inventory to provide specific items for distribution.
Transfer options via the radial menu (whether weapons, armor, structures, ammunition and saddles should be deposited or not). All storage cabinets as well as the R+ refrigerator have the option: "Exclude from storage system". Then no items will be deposited into these boxes via the storage distributor.

– Simple Dedicated Storage: functions like the Dedicated Storage, 400 slots, no cooling function, producible before Tek-Level
– Resource warehouse: 300 slots
– Weapons storage: 300 slots, weapons from the quick menu are not stored.
– Armour storage: 300 slots, armour that is currently being worn will not be deposited.
– Ammunition storage: 300 slots, ammunition that is in weapons (loaded) will only be deposited with the weapon.
– Saddle storage: 300 slots, saddles carried by dinos will not be deposited.
– Structure storage: 300 slots, structures from the quick menu will not be deposited.
– Artefact and Tribute Storage: 300 slots, structures from the quick menu will not be dumped.
– Dedicated Fridge, dedicated storage with cooling function (1800 slots), for one item type only. Can only be operated with Tek power. Consumables located in the quick menu are also deposited.
– Simple Dedicated Fridge, Dedicated Storage with cooling function (100 slots), for one item type only. No item needed to build. Requires power to run. Consumables located in the quick bar are also deposited.
– R+ Refrigerator (colorable): 300 slots, consumables can be deposited via the storage distributor. Can run on electricity or Tek power. Consumables located in the quick bar are not deposited.
The Nanny will feed your dinos up to 10% and imprint your dinos to 100%.
She's doesnt need fuel.
Means all you have to do to start feeding is put food in the nanny and activate her.
For imprinting the Nanny needs Kibble.
Which animals need which Kibble, you can see in the list.
The Nanny imprints in 5% steps, meaning that to imprint an animal completely by the Nanny to 100% you need 20 Kibbles.
The kibbles are downward compatible.
All animals can be imprinted with Extraordinary Kibble.
Search for an animal: Press CTRL + F and enter the name of the animal.
Attention:
Wyvers are imprinted with Wyvernmilk!
Rockdrakes with Nameless Poison!

Basic Kibble
Dilo
Dodo
Kairuku
Mesopithecus
Parasaur
Tek Parasaur
Phiomia
Achatina
Arthropluera
Bulbdog
Chalicotherium
Compy
Dung Beetle
Hyaenodon
Jerboa
Liopleurodon
Lystrosaurus
Manta
Onyc
Ovis
Pegomastax
Procoptodon
Ravager
Roll Rat
Shinehorn
Otter
Oviraptor
Electrophorus
Featherlight
Glowtail
Hesperornis
Mantis
Microraptor
Moschops
Pachyrhino
Vulture
Dimorphodon
Simple Kibble
Archaeopteryx
Diplocaulus
Gallimimus
Giant Bee
Ichthyornis
Ichthyosaurus
Iguanodon
Megaloceros
Morellatops
Pachy
Raptor
Tek Raptor
Triceratops

Regular Kibble
Angler
Ankylosaurus
Baryonyx
Beelzebufo
Carbonemys
Carnotaurus
Dimetrodon
Diplodocus
Doedicurus
Equus
Gigantopithecus
Kaprosuchus
Kentrosaurus
Lymantria
Pelagornis
Pteranodon
Scorpion
Purlovia
Sabertooth
Sarco
Stegosaurus
Tek Stegosaurus
Terror Bird
Thorny Dragon
Velonasaur

Superior Kibble
Allosaurus
Argentavis
Castoroides
Daeodon
Direbear
Direwolf
Gasbags
Dunkleosteus
Mammoth
Megalodon
Megalosaurus
Megatherium
Paracer
Plesiosaur
Snow Owl
Tapejara
Woolly Rhino

Exceptional Kibble
Basilosaurus
Brontosaurus
Giganotosaurus
Karkinos
Managarmr
Mosasaurus
Rex
Quetzal
Therizinosaur
Tek Rex
Tek Quetzal
Spinosaur

Extraordinary Kibble
Griffin
Megalania
Rock Elemental
Thylacoleo
Yutyrannus
Basilisk
Gacha
Phoenix
Tusoteuthis
Titanboa
Hybriden
Deinonychus